Industrial Hardened Ethernet Switch Module 5-30VDC & Wide Op Temp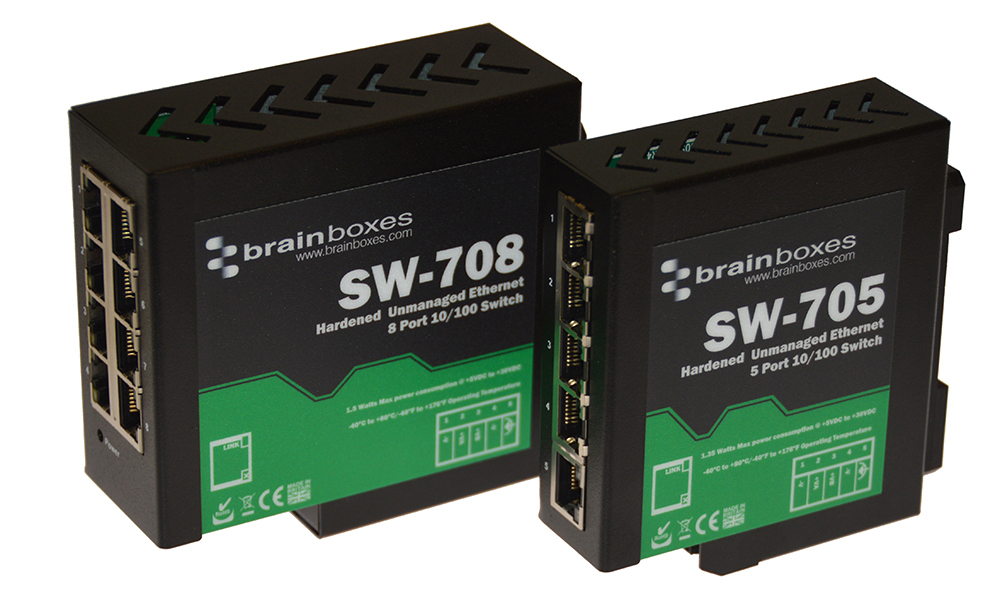 A range of metal cased switches ready for industrial applications
The 5 port SW-705 and 8 port SW-708 are hardened unmanaged industrial ethernet switches.
Ethernet Switches in grounded DIN mount metal cases. The switches don't need any software, simply plug in and extend your network connection. They have a 5-30VDC dual redundant power input capable, meaning they can be powered from USB or from the 24V factory floor. When using dual power supplies the switch will automatically pick the stronger power source to guarantee uninterrupted operation. With an operating temperature between -40 ºC and +80ºC these switches are suitable for tough environmental conditions.
Simple, reliable network expansion in an industrial format.
Industrial temperature range of -40°C to +80°C (-40°F to 176°F)
Dual input redundant power supply with wide voltage range
Power consumption is optimised based on the status of the link device
No software required.
Grounded DIN mount clip
Choose from 5 and 8 ports or talk to our sales team sales@brainboxes.com