Brainboxes launches its first remote analogue output device
The product is perfect for industrial process control environments such as water utilities, petrochemical, transportation and food and drink manufacturing. Many industries require control of analogue signals such as temperature, weight, pressure and power supply, but physical access is often restricted. The ED-560 is suited to locations where equipment is not easily accessible, needs to be sealed in an enclosure or is simply in a remote location.
The ED-560 has 4 Analogue Outputs with 12 bit resolution, individually selectable as current or voltage. The 0-10V and 4-20mA outputs allow for a wide range of common applications and the -30°C to +80°C DIN mountable format fits perfectly with industrial demands. Besides being able to instantly monitor and control from a web browser Brainboxes' provide software integration options for Excel, databases, SCADA system or cloud. An extensive range of APIs are available making even custom applications straight forward.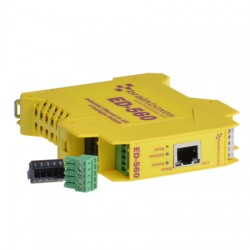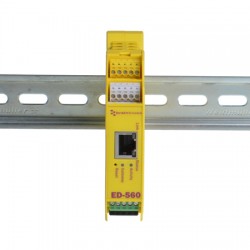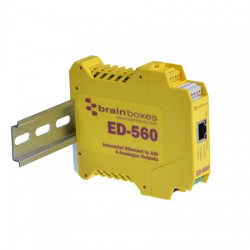 4 Analogue Outputs – individually selectable as Current or Voltage
Precision 0-10V and 4-20mA outputs
Monitor and Control instantly from any web-browser
Get data into Excel, a database, SCADA system or cloud
-30°C to +80°C Operating Temperature range
Use with Modbus or ASCII commands
Analogue/Analog Signals
Analogue (UK) or Analog (USA) is any continuous signal, in this case electrical, where a voltages and current vary continuously over time. It is different to Digital signal, which is represented by a discrete time and value, such as binary. Whilst Digital signal is either 1 or 0, Analogue has the potential for an infinite number or values. This can be seen by the different patterns the signals make.
There are many applications where an Analogue signal is the preferred method of data collection. Examples of things with analogue patterns include; sound, pressure, position, light and temperature. Those of us old enough may remember turning the dials on our televisions or radios to pick up the analogue signal. Whilst the 'noise' in analogue audio and video signals has led to it being replaced with Digital there are many applications where the monitoring and controlling of continuous information is dependent on the almost infinite gradation that Analogue can provide.
The Internet of things: It is widely believed that up to 30 billion devices will be connected to the internet by 2020. Real world data is variable and can come from any source. To interact with the real world electronic devices with always need an analogue interface.
Real world applications with analogue data:
Energy – wind, solar, hydro and energy storage, power monitoring, electric/gas/water metering
Aerospace – radar, satellite communications, avionics
Construction –control and automation systems, security and video surveillance, HVAC, lighting
Healthcare – medical scanning, X-ray, ECG, Blood pressure and pulse Oximetry, Blood testing, fitness testing
Manufacturing – weighing equipment, temperature control, asset tracking, motor control, robotics, test and measurement, environmental monitoring
Full range of control and monitoring solutions available: