Remote I/O Ethernet I/O Modules for Monitoring, Control and Automation
Brainboxes Remote IO devices are available as Digital IO, Relay, Analogue IO or Thermocouple, controlled over Ethernet using a range of protocols. In both industrial and commercial/light industrial form factors. The modules have a suite of software API's available including for Visual Basic, C# and C++, which allows them to be controlled and monitored over the local network or internet as a web relay or ethernet relay switch.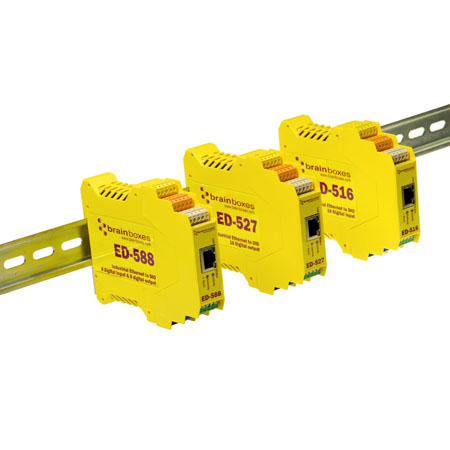 Digital Inputs and Outputs
Analogue Inputs and Outputs
Relays
Thermocouples
Multiplatform software covering PCs and PLCs
Install as a serial COM port, or communicate directly over TCP
Brainboxes Lifetime Warranty and Support
Application
Digital
Relay
Analog
Thermocouple

ED-588

8 DI & 8 DO + Gateway

ED-516

16 DI + Gateway

ED-527

16 DO + Gateway

ED-504

4DIO + RS232/ 422/485 + Network Switch

ED-538

4 Relay & 8DI + Gateway

ED-549

8 AI + Gateway

ED-560

4 AO + Gateway
Coming Soon!

Commercial

Light Industrial

ED-008

8 DIO

ED-004

4 DIO + RS232 Serial Port

ED-204

4DIO + RS232 + Network Switch

ED-038

3 Relay & 3DI




Coming Soon!
Watch the Remote IO Demo