Industrial Gigabit Ethernet Switches 5-30VDC and Wide Operating Temp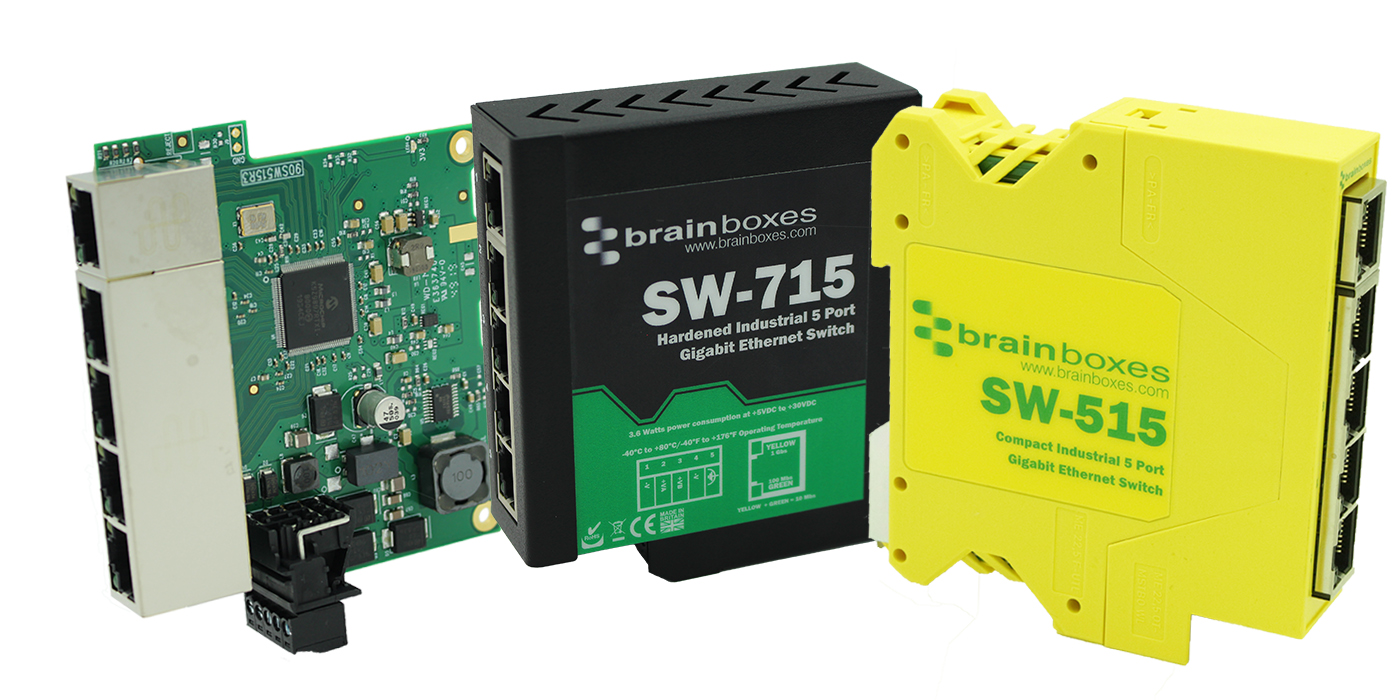 A range of Gigabit switches ready for industrial applications
The embedded SW-115, compact SW-515 and hardened SW-715 are 5-port unmanaged industrial Gigabit Ethernet switches.
Simple, reliable network expansion in an industrial format.
5 Gigabit Ethernet ports
No software required - simply plug in and connect
Industrial temp. range (-40ºC to +80ºC/-40ºF to +176ºF) - works in extreme conditions
Wide voltage input range (+5V to +30V) - can be powered by varied sources
Redundant dual power inputs - reduces risk of power outage
Compact design – SW-115 ideal for mounting within terminals/kiosks
Efficient use of space – Integral DIN mount (SW-515/SW-715)
The Gigabit Ethernet switches offer 5 x 10/100/1000 Mbs unmanaged Ethernet ports within compact enclosures designed to withstand the rigours of industry. The range of switches offer reliability in a factory environment - they can be powered from +5VDC to +30VDC, and have a wide industrial operating temperature range (-40ºC to +80ºC/-40ºF to +176ºF)
The power input allows for a dual redundant power supply, and can be powered by any computer USB port, as well as any standard 12/24 Volts factory floor supply. The SW-115 can be run from a standard car battery making it ideal for in-vehicle and marine applications.
Bulk data transfer is efficient with automatic detection of data transmission speed, and power consumption is optimised for maximum efficiency. Connection monitoring automatically powers down devices when not in use for optimum energy efficiency.
Brainboxes Gigabit Ethernet Switch range takes up minimal space in panels, configurations, and systems. The embedded format of the SW-115 has mounting holes connected to Functional Earth, whilst the compact design of the SW-515 and SW-715 includes an integral DIN mount.
Like all of Brainboxes Industrial Ethernet Switches (SW range), the new Gigabit Ethernet Switches include an "Easy Wire" with removable terminal blocks and symbols identifying each line. "Plug & Play" technology makes installation simple and fast, as no software is required, simply plug in any Ethernet cable and connect.