Brainboxes Launch New 8-Port Light Industrial Ethernet Switch
September 17, 2020 / News
Reliable Multiport Networking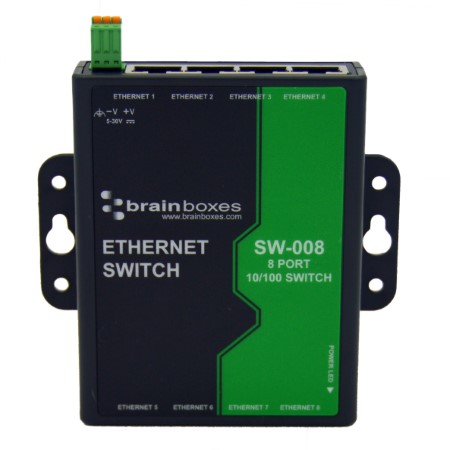 We've been listening to our customers and network expansion is
increasingly important to them. The SW-008 offers reliable multiport networking
with 8 Ethernet ports housed in our compact wall-mountable format all at the
right commercial spec.
Luke Walsh, Brainboxes MD
The new SW-008 10/100 Mbs Ethernet switch has 8 galvanically
isolated ports to provide safe operation in tough environments and extreme
temperatures (-10°C to +60°C / -14°F to +140°F.)
Easy to install into your existing network; the SW-008 is compact
at just 30mm wide. The integral mount allows for efficient wall-mounting or
integrates with Brainboxes MK-048 optional accessory for DIN-rail mounting.
The power supply wide voltage range means the SW-008 can run
from a computer's USB, a standard car battery (making it ideal for in-vehicle/aboard
boat applications) or a 24VDC factory floor supply.
Power consumption is optimised for maximum efficiency with a
power down mode for when the device is inactive.
At a glance:
8 Ethernet ports – bi-directional data flow
No software required – simply plug in and
connect
Wide operating temperature range -10°C to +60°C / -14°F to +140°F
Wide voltage input range +5V to +30V DC –
can be powered by varied sources
Compact design
Integral wall mount – efficient use of space
Lifetime support & warranty