What is Power over Ethernet and how can I implement it in my network?
What is Power over Ethernet?
Power over Ethernet (or PoE) means passing electrical power through an Ethernet cable alongside data. Devices which are PoE capable can be connected to both a power source and a network through a single Ethernet cable.
Some advantages of using PoE are:
Run one cable instead of two
Avoid cost of installing additional power sockets
Use your existing network cable
Quick, safe and simple to install
You can install Ethernet to Serial devices that are PoE enabled such as our ES-446, ES-457, ES-420 and ES-413. These devices are particularly suitable for applications such as security cameras where it is difficult to run lots of wiring.
Brainboxes PoE Ethernet to Serial uses exactly the same software and drivers as our standard tried and tested Ethernet to Serial devices. You won't notice any difference in the operation or reliability of the device, the difference is purely in the convenience of the power options.
Which PoE standard does the device use?
Brainboxes PoE devices use no more than 2.15 Watts of power, so all the devices use the IEEE 802.3af standard. This standard gives up to 15.4W of power through the Ethernet cable. Brainboxes PoE devices can be powered from other standards that provide more power such as IEEE 802.3at (25.5W) but as the devices are economical to run they do not require such large amounts of power. To meet the 802.3af standard 48V has to be supplied over Ethernet cable so bear this in mind when choosing PoE injectors.
Choosing an Ethernet to Serial Product:
I have a Power over Ethernet network:
If you have a PoE enabled network you can use either our PoE enabled devices or our standard Ethernet to Serial devices. Both types of device will read the network data, but only the PoE device can be powered by the Ethernet cable. Our standard devices come with a power supply that will need to be plugged into a suitable power socket.
PoE device ES-457 (2xRS232) works through a single cable connected to a PoE enabled Ethernet port: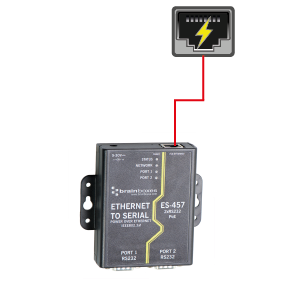 Standard Ethernet to Serial device ES-257 (2xRS232) can still receive data from the Ethernet port, but needs to be connected to a separate power source: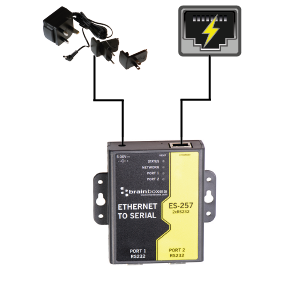 I don't have a Power over Ethernet network yet:
Our standard Ethernet to Serial devices come with a power supply and thousands of them are installed around the world giving a reliable Serial connection over a network. However you might want to look to the future. You can still use our PoE devices on a regular network, but as only data is transmitted through the Ethernet cable you will need to connect a separate power supply (PW-800). As soon as you add power to your network the device will be ready to be powered through the Ethernet cable.
PoE devices can be connected to a standard network, but will need a power source: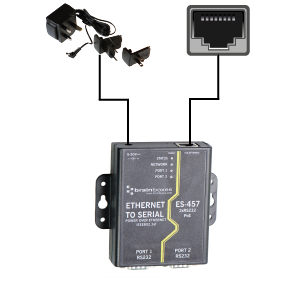 Standard devices connect as they always have done, to separate power and data cables: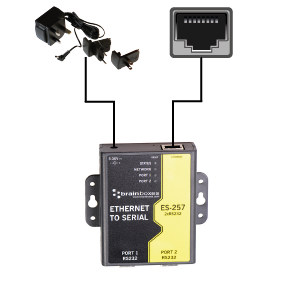 How can I PoE enable my network?
Standard Ethernet cables are capable of providing both data and power so you do not need to upgrade to special cable to connect PoE devices.
However, you will need to get or 'inject' power into your network. You can do this with a PoE hub or switch or with a small injector device. There are many options available but it doesn't need to be expensive to get started. You do not need to introduce PoE to your whole network at once so you can reassess your needs as you go. Remember to meet the 802.3af standard 48V has to be supplied over Ethernet cable, so make sure your injector qualifies for this standard.
An example of a simple PoE injector: power and Ethernet data are connected to the device and combined into one PoE output. The cable connected to the PoE output can run for 100m carrying both power and data: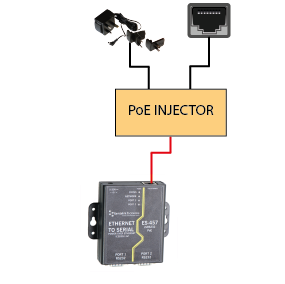 Dual redundant power supply – the added bonus of PoE
Some applications are critical and making sure they are always on is a basic but vital requirement. Having two power sources connected gives piece of mind should one fail or become unreliable.
All Brainboxes PoE devices are designed to be powered through the Ethernet port so they don't come with a power supply, however they do have a 5 to 30V power jack connector fitted. If you wish to connect a second power supply you can use the PW-800 alongside your PoE cable.
Brainboxes PoE devices will automatically draw power from the stronger of the two sources.
Here you can see both a PoE enabled network and a power supply connected to the ES-457: