Discover User-Friendly Industrial Ethernet Switches
Industrial Ethernet switches build a network connection, allowing devices to talk to each other. Switches are essential tools in the networking structure; enabling swift and efficient delivery of data packets between devices, whether they're at opposite ends of a factory or on different sides of the world.
Unlike Ethernet hubs that transmit incoming data packets to all ports, unmanaged industrial Ethernet switches are able to work within addressing schemes and limit data collisions by only sending specific data packets to their destination ports. Unmanaged switches automatically detect the network speed of each device, identifying and remembering network devices through the MAC Address function. This intelligence allows the switch to sort all messages by their specific identification code and send them to the correct port, vastly improving transmission performance.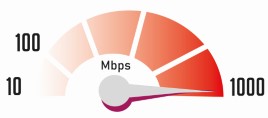 Establish network connections between multiple devices
Traffic between connected devices won't interfere with other devices on the same network
Control and monitor access to various parts of the network
Allow usage monitoring
High speed communication within your network
Fast Industrial Ethernet Switches
Fast Ethernet enhances the speed of Ethernet with a transfer rate from 10 Megabits per second (10 Mbps) to 100 Megabits per second (100Mbps). The industry standard for industrial Ethernet Switches is the RJ45 port also known as a network port. With 8 positions and 8 conductors (or contacts) formed into 4 twisted pairs; a type of wiring that twists two conductors of a single circuit together to improve electromagnetic compatibility, the Fast industrial Ethernet switch works over Cat5 cables to connect devices.
Whilst Gigabit industrial Ethernet switches offer obvious advantages of speed and performance; not every application requires that speed. In automation and monitoring projects that don't require Gigabit speeds, such as train ticketing machines, lighting controls, and control panel expansions, Fast Ethernet switches offer reliable remote functionality and can reduce the number of service call outs.
Product Spotlight: Fast Ethernet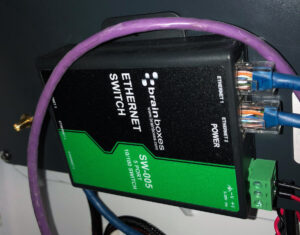 SW-005 10/100 5 Port Light Industrial Ethernet Switch
One of the biggest names in the UK for electric vehicle charging solutions utilises Brainboxes SW-005 Fast industrial Ethernet switches in their Ultracharge 5kW free-standing chargers.
The data transfer rate afforded by 10/100 Ethernet is sufficient for the purpose, and the compact design of the Ethernet switches means they integrate neatly into the innovatively designed rapid vehicle chargers.
G​igabit Ethernet Switches
With data transmission at 1000Mbs per second; the Gigabit standard provides simultaneous sending and receiving of data at a speed 10 times faster than Fast Ethernet (100Mbs).
Designed for network intensive applications where rapid data transmission is key, Gigabit industrial Ethernet switches boast increased speed, efficiency and performance, making it easier to configure and support high-speed data transfer between devices and/or the central controls.
Backwards compatible; Gigabit switches can plug into older networks, and are able to connect to devices that are 10Mbs, Fast Ethernet (100Mbs) or Gigabit, whilst detecting the highest common speed between both ends of the connection.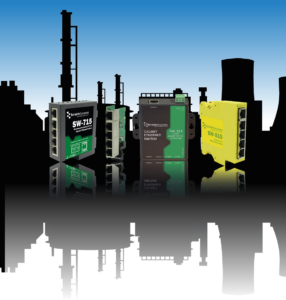 Designed to withstand extreme conditions, industrial Ethernet switches have a more rugged spec than commercial switches. Industrial power considerations and a wide operating temperature range make industrial switches suitable for a multitude of environments including factories, HVAC, oil and gas fields, military applications, and security/surveillance control.
The Gigabit standard is targeted for mission-critical applications where speed is essential, without compromising on reliability, quality, or safety.
Recognised throughout the world as a leading designer and manufacturer of intrinsically safe and explosion proof equipment, Don Electronics uses Brainboxes industrial Gigabit Ethernet switches in bespoke hazard monitoring systems. Used in Zone 21 approved systems (flammable or explosive areas) for critical safety monitoring, the switches are rugged and reliable enough to detect particles in mines and withstand cement dust in construction.