Brainboxes extends its range with RS422/485 multiport Ethernet to Serial options
November 23, 2011 / News
Brainboxes offers more options to solve your Ethernet to Serial needs
Liverpool
UK – 24th November 2011 Brainboxes, a leader in serial connectivity,
has introduced RS422/485 versions of their 4 and 8 port Ethernet to serial products.
As with all our Ethernet to Serial port devices these new products are designed
to provide easy, fast and reliable connections between networked computers and devices
with serial ports- be it across the desk or across the world.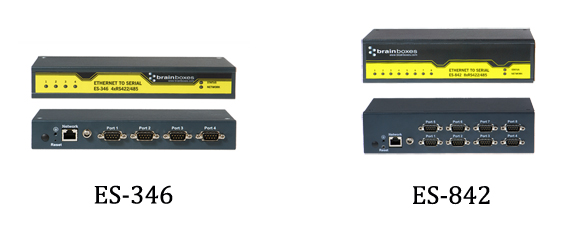 Brainboxes'
Ethernet to Serial range is the smart and cost-effective solution to securely
and remotely manage a wide range of serial accessories for various applications
in an organisation. It is based on Brainboxes' proven and familiar technology
and of course comes with Brainboxes' renowned lifetime support and lifetime
guarantee.

Brainboxes
has engineered its Ethernet to Serial devices to operate completely
autonomously. The new 4 and 8 port RS422/485 devices, as with the rest of the
range, will enable connection across a network with no loss of reliability or
signal integrity. Brainboxes' Ethernet to Serial connectivity options are ideal
for installations such as refineries, large manufacturing plants and warehouses.
Brainboxes'
Ethernet to Serial products allow large quantities of information to be
transferred through each serial port coupled with a fast Ethernet connection.
The increased control and automation, through your existing network
infrastructure, can help you reduce your costs and improve efficiency whilst
our IP30 rated metal cases are strong enough for industrial applications, yet
smart enough for any office environment. All of which makes them perfect for a
wide and varied range of applications including: ATM machines, barcode
scanners, refrigeration and heating controls, medical devices, security
controls, weather stations and electronic key systems.
Eamonn Walsh, chairman of Brainboxes
says; "The ES-346 and ES-842 – Ethernet Serial Device Servers 4 and 8 RS422/485
ports- demonstrate our commitment to industrial networking and meet the needs
of customers controlling many devices, such as stepper motors, on the factory
floor."
The
Ethernet to Serial range comes with Microsoft signed drivers for 32-bit &
64-bit versions of Windows 7, Vista, Server 2008, Server 2003, XP and Windows
2000.
About Brainboxes
~Now in its 28th year of trading~ 
Established in 1984, Brainboxes is about to embark on its 28th and most innovative year of trading to date. Brainboxes is one of the leading PC communication card developers and manufacturers in the World and is continuously expanding its product ranges.
With headquarters in Liverpool, UK, it has a team of highly qualified software and hardware designers, matched by a world-class volume manufacturing facility. Brainboxes was named the Manufacturing Institute's Small Business of the Year and Champions of Best Practice in 2007. The company also won the 2005 Elektra Manufacturer of the Year award. Brainboxes is a Microsoft Certified Gold Partner.
The company develops and owns all of its own core technologies, including USB, CompactFlash, PCMCIA, ExpressCard, Bluetooth, Ethernet to Serial PCI Express and PCI products. It is at the forefront of developments in serial card and wireless technology.
Current customers include; Fujitsu, Fujitsu Technology Solutions, HP, IBM, Lenovo, Panasonic, Reuters and Toshiba.
Further information is available from Brainboxes website at: 
http://www.brainboxes.com/product/items/es-842
http://www.brainboxes.com/product/items/es-346
Connect,
Configure & Control
Brainboxes contact:
Emily Dixon
Marketing Executive
Telephone:          +44 151 220 2500                             
Email:                   [email protected]
Brainboxes is a trademark of the Brainboxes Company. Other product or service names mentioned herein are the trademarks of their respective owners.