Brainboxes Launches French Website
May 18, 2011 / News
Liverpool UK – 18th May 2011 – Brainboxes, a leader in Serial and Bluetooth communication devices, today launched the first localised version of its website into French. Simply type fr.brainboxes.com into your web browser or click on the language flag on the top right of any English language page. In the process of carrying out this work, more than 20.000 words have been translated, across all areas of the website including support articles, frequently asked questions, technical documents, product descriptions and company information.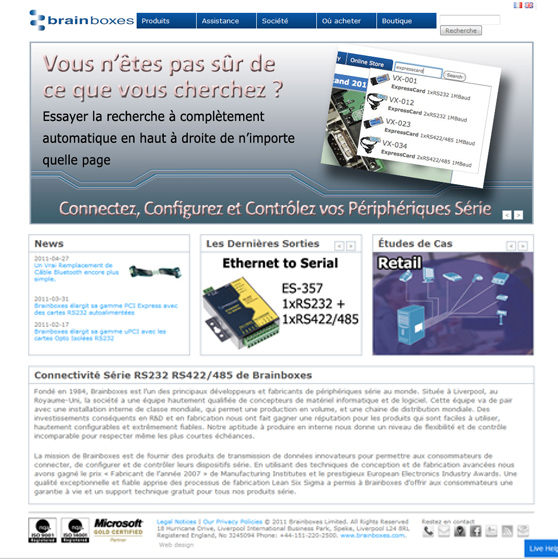 "We launched a French language website because France is an extremely important country to which we export our products", said Eamonn Walsh, chairman of Brainboxes. He added "We feel the French community represents an underserved market in terms of high quality French language literature about Bluetooth, serial and Ethernet devices, consequently the launch of a French website was high priority. I'm delighted with the efforts of our marketing and technical team in making this happen."
The key purpose of Brainboxes' is meeting and going beyond customer expectations. It is important that customers have access to all information about our products in the language which is the most familiar to them. We have this focus on our customers in every stage of the life of our products, whether it be design, manufacturing or after sales service. Through this we hope to have a higher number of visits from native French speakers and so continue to increase our sales in a highly competitive marketplace."
Brainboxes is building towards a long term strategy of better serving individual markets by tailoring it's offering to suit the needs of customers in particular regions. The French version is the first step and Brainboxes expects to launch it's websites in multiple languages in order to meet all its customers worldwide.