Small Form Factor & Desktop Ethernet to Serial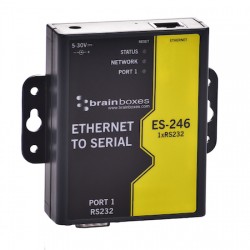 Ethernet to Serial device providing access to 1 and 2 RS232 or 422/485 serial ports. Data transfer rate up to 1 Mega baud, associated with drivers lines to 1 Mbit/s, ensuring a flawless performance.
1 or 2 port RS232 or RS422/485
Light Weight
Compact
Small Format Factor
Power Over Ethernet or Powered by External power supply
Wall mountable
Optional DIN rail mount accessory
Can't find what you're looking for? Brainboxes will customise products to suit your needs.
Ethernet to Serial
ES-246
ES-257
ES-320
ES-313
1 Port RS232 Ethernet to Serial Adapter
2 Port RS232 Ethernet to Serial Adapter
1 Port RS422/485 Ethernet to Serial Adapter
2 Port RS422/485 Ethernet to Serial Adapter

Max Baud Rate

1,000,000 (1 MegaBaud)

Max Baud Rate

1,000,000 (1 MegaBaud)

Max Baud Rate

1,000,000 (1 MegaBaud)

Max Baud Rate

1,000,000 (1 MegaBaud)

£ 85.00 (gbp)
£ 133.00 (gbp)
£ 94.00 (gbp)
£ 133.00 (gbp)
Details
Details
Details
Details
Ethernet to Serial with Power Over Ethernet
ES-446
ES-457
ES-420
ES-413
1 Port RS232 PoE Ethernet to Serial Adapter
2 Port RS232 PoE Ethernet to Serial Adapter
1 Port RS422/485 PoE Ethernet to Serial Adapter
2 Port RS422/485 PoE Ethernet to Serial Adapter

Max Baud Rate

1,000,000 (1 MegaBaud)

Max Baud Rate

1,000,000 (1 MegaBaud)

Max Baud Rate

1,000,000 (1 MegaBaud)

Max Baud Rate

1,000,000 (1 MegaBaud)

£ 115.00 (gbp)
£ 163.00 (gbp)
£ 124.00 (gbp)
£ 163.00 (gbp)
Details
Details
Details
Details