Light Industrial Ethernet to Serial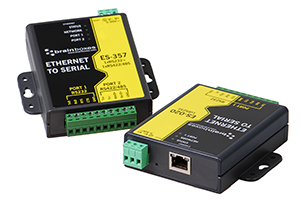 | Number of Ports | RS-232 | Number of Ports | RS-232 & RS-422/485 |
| --- | --- | --- | --- |
| 1 x | ES-020 | 2 x | ES-357 |
Can't find what you're looking for? We can customise our product to suit your needs.
ES-020
ES-357
Ethernet 1 Port RS232 10xScrew Terminals
1 Port RS232 and 1 Port RS422/485 Ethernet to Serial Adapter

Max Baud Rate

1,000,000 (1 MegaBaud)

Protocol

RS232 + RS422/485

Max Baud Rate

1,000,000 (1 MegaBaud)

£ 139.95 (gbp)
£ 139.95 (gbp)
Details
Details
Features

Rugged Enclosure
IP-30 rated rugged case protects the device in any environment from industrial to office based.
IP (Ingress Protection Rating*) Code 30 specifies that objects greater than 2.5mm in diameter cannot penetrate the case, this means that the case provides a safety barrier from objects (such as tools and wires) interfering with the internal circuitry.
* Also Known As International Protection Rating

Optional DIN Rails Mounts
The DIN rail mounts are an optional accessory. This allows the device to be mounted in a Server rack or any DIN rail fitted equipment rack. The DIN rails conform to IEC International Standard 60715 and European Standard EN 50022.

Integrated Wall Mount
All Brainboxes' light industrial serial ethernet adapters have integrated wall mount points which are located on either side of the device (also known as Ears). Screws or nails can be used to attached the device through the wall point ears to a wall, table or any firm flat surface.