The BL-819 and BL-830 RS232 to Bluetooth adapters are highly versatile devices, our customers constantly surprise us by the number of different environments they are used in. Often a standard plug socket is not available and an alternative power source is required. This article will discuss 2 of the many options available.
BL-819 BL-830 Power Requirements
The BL-819/830 data sheet gives the power consumption as 110mA at 5V.

USB 2.0 Port Specification
USB 2.0 sockets provide a maximum 500mA at 5V across pins 1 and 4. So yes a USB 2.0 socket can easily power a BL819/830.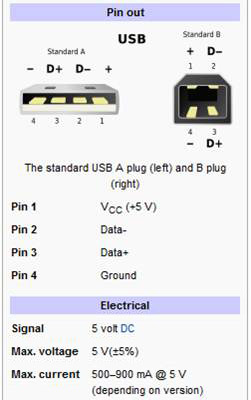 Car Cigarette Lighter
The BL-819/830 power input circuitry is: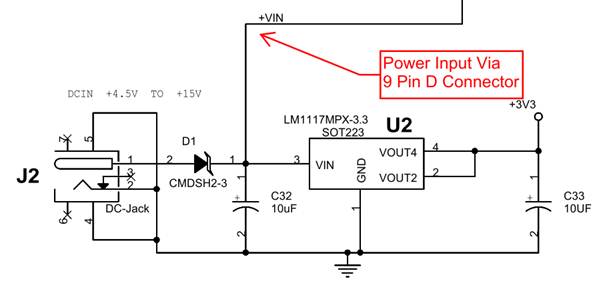 So the input is regulated by the LM1117MPX. This helps provide a stable output to the Bluecore chip etc of 3.3 volts despite input voltage variations.
However the Nominally 12V in a car can fluctuate widely.
See the article in Wikipedia http://en.wikipedia.org/wiki/Cigarette_lighter_receptacle
This states:
"
Design considerations
Since the cigar lighter socket was designed to heat a cigar lighter, using these sockets as power connectors can lead to many problems. In addition to the issues with incompatible sizes, plugs can vibrate out of the socket under normal driving conditions, owing to poor retention. There have been reports of melted plug tips.
A second problem is that nominally "Twelve-Volt" power in cars fluctuates widely. The actual voltage will be approximately 12.5 volts when dormant, (less when cold) approximately 14.5 volts when the engine and the alternator/generator are operating, (more when cold) and may briefly drop as low as 5-6 volts during engine start. DC/DC converters will usually compensate for these small fluctuations.
Rarely, more extreme cases of voltage fluctuation can occur when the car battery is disconnected while the engine is running, or when the car receives a jump start. When the battery is disconnected, a load dump transient can produce very high voltages. A car receiving a jump start from a truck will be subject to its 24 V electrical system. A "double battery jump-start" is performed by some tow truck drivers in cold climates.
Design wise one has to take into account intermittent contact, and voltages outside the nominal 12 V DC like top voltage 9-16 V continuously, top voltage at 20 V during 1 hour, 24 Vduring 1 minute, 40 V during 400 ms. Protection component tolerance example ratings are +50 to -60 V DC Additionally, issues can occur with temperatures varying between-40 till +85 °C such as humidity and condensation. Equipment connected this way must tolerate large variations in electrical- and climate environment.
"
So the voltage is only nominally 12V. the drop outs to 5 or 6V are not a problem for the BL-819
The LM117 has a normal safe operating input limit of 15V and if the Car Cigarette lighter never give sout more than this then it would be ok. The Wikipedia article discusses cases where the 15V can be exceeded. The LM1117 voltage regulator has an absolute maximum rating of 20Volts before it is destroyed.
A way round this would be to purchase a cheap car Cigarette lighter to USB lead (about £3.00 ~ $5) and use that as a means of ensuring no out of limits voltages goes to the BL-819/830