The 8 Port Industrial Ethernet Switch is here
March 22, 2016 / News
Switches for industrial applications, transport and marine use
Brainboxes launches 8 port Ethernet
switch for industrial applications, transport and marine use
Liverpool, England – 6th April 2016: Brainboxes
has launched the SW-508, an instant-install, unmanaged Ethernet 8-port switch
designed to meet the multiport networking needs of users who demand reliability
and high performance.
Luke Walsh, Managing Director of Brainboxes, comments: "We've
been listening to our customers, and they increasingly need to extend their
networks. With the drive to get equipment online and the Internet of Things
taking off, even the best designed networks are running out of ports. With the
SW-508 you get 8 Ethernet ports to greatly expand your network all in our neat
DIN rail format and at industrial spec."
Brainboxes' SW-508 10/100 8 Port Industrial Ethernet switch, that uses a 2K packet size to enhance bulk data transfer and
optimize system performance, has galvanically isolated ports
to provide safe operation in tough environments and extreme temperatures between -40ºC to +80ºC
(-40ºF to +176ºF). The SW-508 is encased in a non-conductive plastic for
enhanced safety, particularly important for electrical wiring in cabinet
spaces.
Reliability is further enhanced with redundant dual power
inputs between +5V to +30V DC meaning a second power supply can be fitted as a
back-up to prevent down time should one power source fail.
The power input range means the SW-508 can be run from: a 24VDC factory floor
supply; a standard car battery, making it ideal for in-vehicle and aboard
boats; or even a computer USB port, using an optional accessory cable
(PW-650).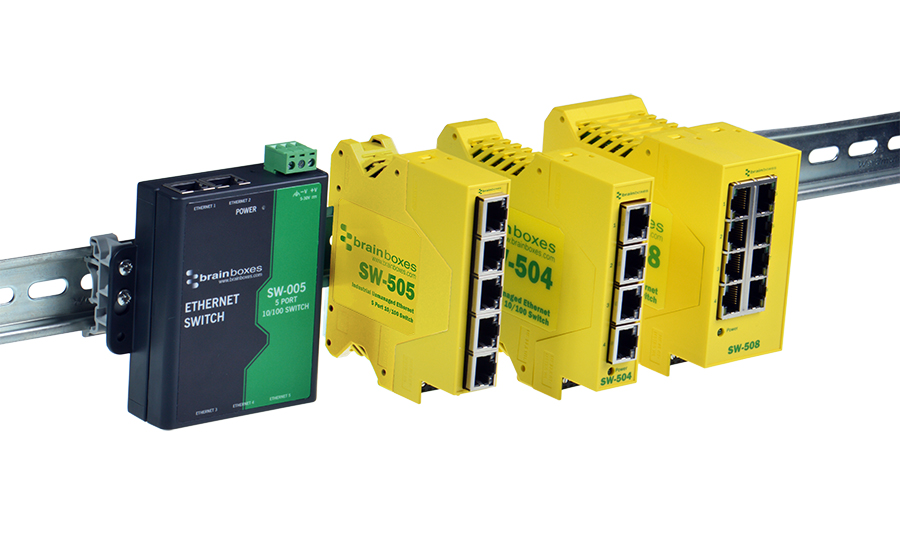 Easy to install into your existing network and taking up
minimal space, the SW-508 is slim in size at just 45mm wide, comes with a DIN
rail clip to speed up mounting inside a cabinet and designed with an "easy
wire" feature using removable colour-coded and numbered terminal blocks. Power consumption is optimised for maximum efficiency with a
power down mode for when the device is inactive.
The SW-508 has a manufacturer's
suggested retail price (MSRP) of £95.
About Brainboxes
Established in 1984, Brainboxes develops a wide range of
serial and remote I/O devices. The company manufactures and supports its own
core technologies, including Ethernet, USB, Bluetooth, ExpressCard, PCI Express
and PCI products. Highly qualified software and hardware engineers deliver
custom-made industrial automation and test & measurement solutions. A
Microsoft Certified Gold Partner, the award-winning business operates a
world-class volume manufacturing facility with global distribution to match
served by offices in the UK, US and Japan. Key customers include: Honeywell
Aerospace, Cummins, HP, IBM, Lenovo, Panasonic, Reuters and Santander. Find
more information at www.brainboxes.com.