How do I choose a Serial Card for my PC?
PC cards are still a great way to add Serial connectivity to your desktop or server and Brainboxes do a large number of Serial cards which can slot in to the back of your PC. They offer a dependable direct connection between your computer and any device that uses one of the Serial standards. Because Serial has been around for decades and so many different types of device use it you will find lots of options available, from the shape of the connectors to the type of interface.
We've put together this short guide to help you choose the right card first time.
Here are a number of questions you should consider to help you choose the right kind of card:
The size– is it full height or low profile?
Is it uPCI or PCIe?
How many ports do I want?
What type of Serial is it?
What type of connector is it – 9 pin D, 25 pin or printer port?
Do I need a powered card or isolation?
What size space does the PC have?
Have a look at the case of your PC to see what available openings there are. The space will either be 120mm or 80mm and into this you can slot the metal bracket on the edge of your Serial card.
Brainboxes Serial cards come with a bracket that is either 120mm (full or standard height) or 80mm (low profile) high. If you have a low profile slot at the back of your PC you will need the smaller, 80mm, or low profile version.
Here is an example of the difference: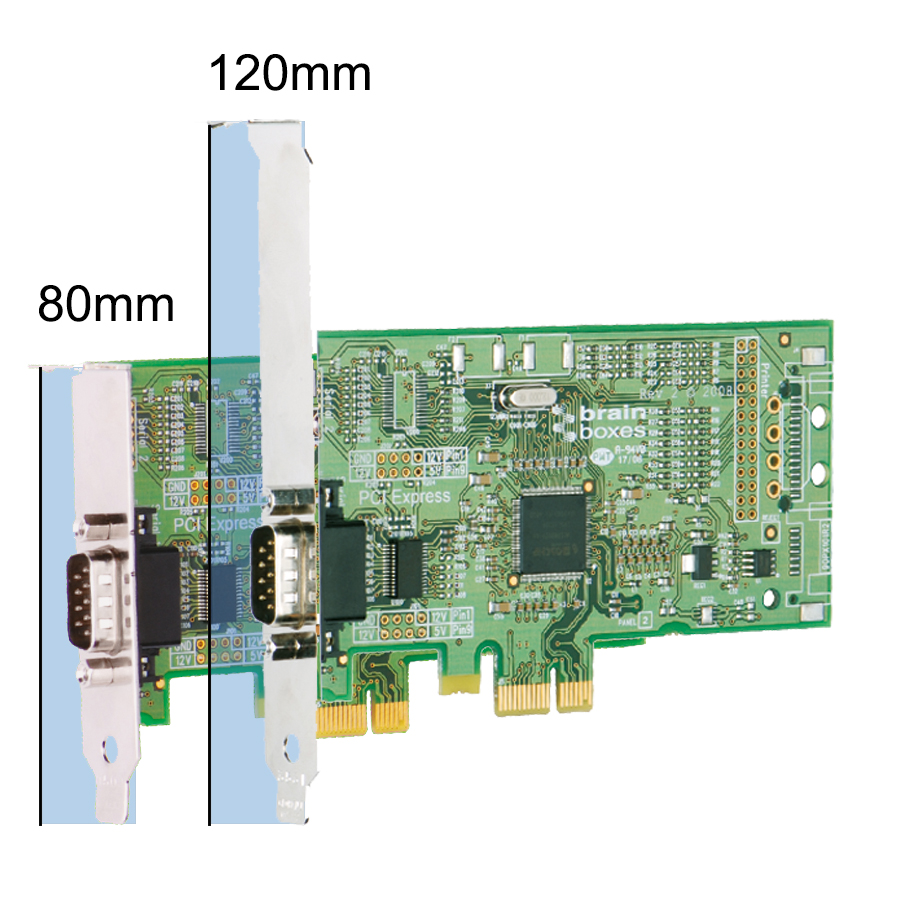 uPCI and PCIe – What's the difference?
Universal or conventional PCI (Peripheral Component Interconnect) has been around for over twenty years. The newer PCI Express, which uses a serial rather than parallel interface, is much faster, however both systems are still in popular use.
In terms of installing it the difference is in the style of the slot. Have a look on the motherboard to see if you have a PCI or PCIe expansion slot: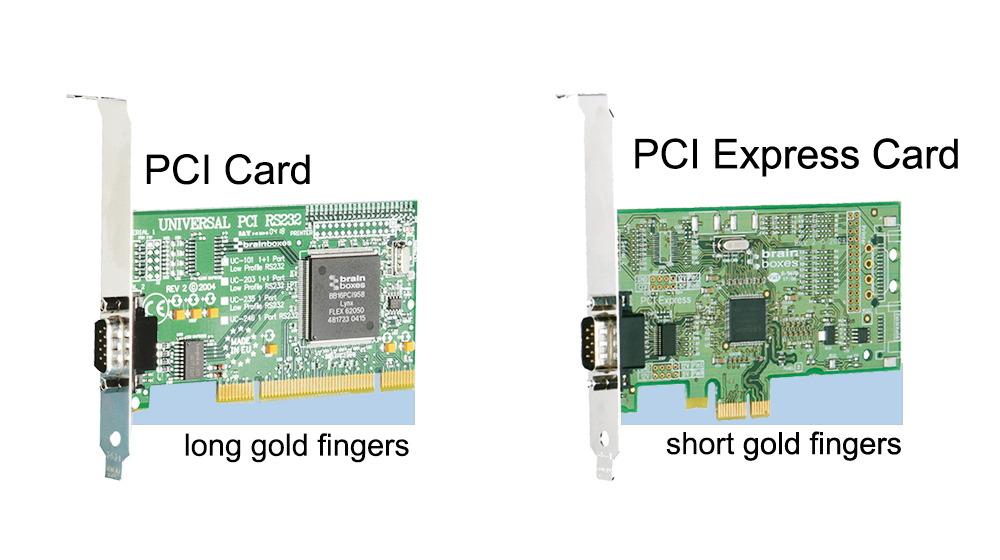 How many ports do I want?
How many devices do you need to connect to? You can get up to 8 Serial ports and combinations of Serial and Printer ports. Depending on the space available both on the motherboard and at the back of your PC case you have a number of ways to get multiple ports.
Here are some examples:
A single card, installed on one bracket using a cable to give 8 connections: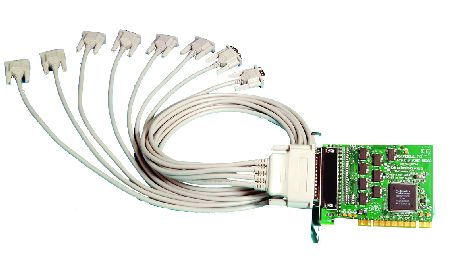 A single card with 2 ports on a full height bracket: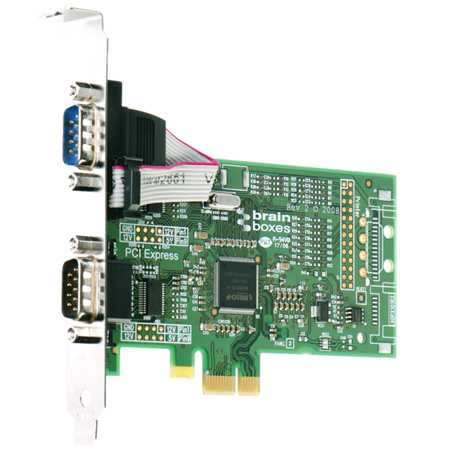 A single card, installed with 2 low profile brackets to give two ports: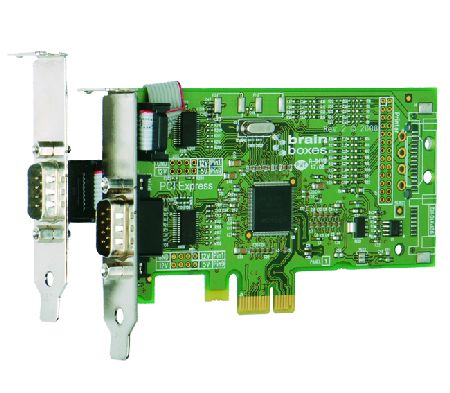 Is it RS232 or RS-422/485 Serial?
This will depend on the device you are connecting to. Check the manual of your peripheral to see whether it is RS232 point to point, or RS422/485 full duplex/half duplex.
RS232 is point to point which means your peripheral device and computer have a direct connection with no data formatting or packets. It can be limited by cable length.
What type of connector is it?
What is the Serial device you are trying to connect to? 9 Pin D is one of the most common connections for Serial but there is no standard. If you have a Serial printer then it will most likely have a 'parallel port for printer', these are often 25 Pin connectors, but not always! It is worth having a look at the device and checking which connection it takes to see if it needs a 9 pin D, 25 pin D or a parallel port for printer.
Do I need power or isolation?
If the device you are connecting to doesn't have a power source it might be suitable to be powered from the Serial card. You'll sometimes find this with point of sale devices. Opto isolation can be useful if you have a lot of EMC noise, such as a in factory. All Brainboxes Serial cards offer great baud rates.
Brainboxes do lots of specialised cards so if you need something a bit different please contact us:

[email protected]

.