Ethernet to Serial Factory Floor Application
Using ES-522 Industrial Ethernet to serial to connect to 2 different factory floor machines using either RS232 or RS422/485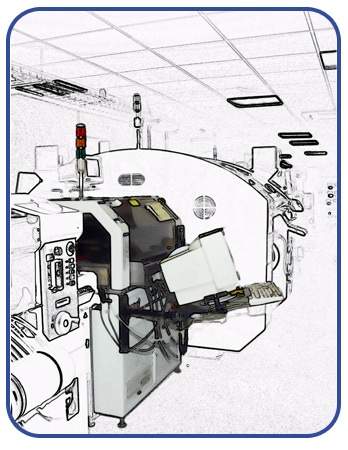 Factory floors can be harsh environments. Extreme temperatures can be generated in the manufacturing process, machinery can be noisy and dangerous and space is a premium. But engineers still need to be able to access and maintain equipment safely and without downtime. As factories expand and modernise older equipment and remote devices need to be networked, but cabling can be expensive and impractical, especially over larger areas.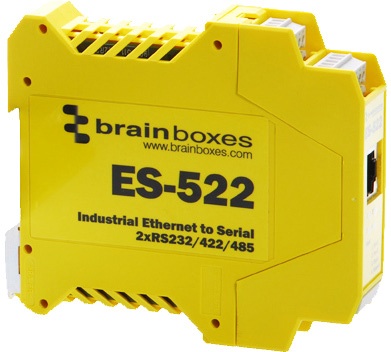 The ES-522 has 2 serial ports that are software selectable as either RS232, RS422 or RS485 and 1 Ethernet port. The 'Easy Wire' removable colour coded Screw Terminals Blocks are individually numbered for simple fast, error free wiring. The slim 'end on' case with integral mount clips straight on to a DIN Rail. The ES-522 has an operating temperature range of -30ºC to +80ºC and +5VDC to +30VDC Dual input reverse polarity protected power supply. Brainboxes proven technology supports legacy applications, whilst our Ethernet to Serial software ensures fast data transmission and a super easy installation whatever your operating system.
Once your Serial equipment is connected to a Brainboxes Ethernet to Serial device you have the option of accessing it over a local network or connecting it to the internet. The devices can be fitted in areas where it would be dangerous for workers to monitor whilst the factory line is in operation. Manufacturing process and performance across a large site can be monitored and potential faults detected before they cause serious downtime costs. Use two devices back to back for serial tunnelling over Ethernet, for when you need to extend the reach of your serial cables.
Find out more!
Brainboxes Industrial Ethernet to Serial ES-522 Industrial 2xRS232/422/485 Ethernet to Serial Server