Finalist – The Electrical Industry Awards
December 31, 2014 / News
Finalist in the Innovative Industrial Product of the year 2014 at the Electrical Industry Awards
Finalist in the Innovative Industrial Product of the year 2014 at the Electrical Industry Awards with the ED-504 3-in-1 Industrial Remote IO with Serial and Ethernet Switch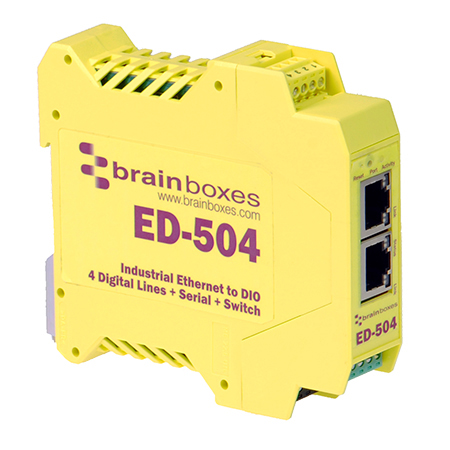 ED-504 3-in-1 industrial Ethernet networking solution, which combines four digital input or output (I/O) channels, a software-selectable RS232/422/485 serial port, and a two-port Ethernet switch, making the device suitable for 'daisy chaining'.
The unique integration of digital I/O, serial connectivity and network switching in a single product means higher reliability than using separate interconnected devices, delivers cost savings and reduces both installation time and downtime.
The primary application for the ED-504 is monitoring and control of DNC and CNC machines in factory-floor process control and automation. However, the device is also suitable for driving and monitoring AC and DC motors, fans, sensors, relay drivers, pumps, voltage regulators and battery chargers, lighting systems, air conditioning, heaters and solenoids.
Increasingly, machine builders are implementing more automated systems to modernise processes and improve performance and efficiency. This means there is also a growing requirement to monitor and maximise the overall operating efficiency of equipment and facilities. One way of achieving this goal is with modest investments in machine management technology, which enables capital equipment cost to be kept to a minimum.
Measuring only 22.6mm in width, the ED-504's small footprint is attractive when DIN rail space is at a premium. Other features of the device include removable colour-coded and numbered terminal blocks for simple installation and a -30 to +80°C operating temperature range, which makes it suitable for deployment in harsh environments.
Offering high reliability, the ED-504 has built-in redundancy with the integration of dual power supplies preventing downtime in the event of failure of either supply. Its wide input voltage from 5V to 30V, which can be configured while powered from a laptop USB port, accommodates variations in the +24V DC factory floor bus and allows alternative power sources to be used. The product features magnetic isolation protection to 1500V between the ports and network.
The ED-504 can be easily configured, monitored and controlled via a Windows based computer and the software interface, accessed via any browser, allows users to be up and running without requiring any extensive programming or networking knowledge. In addition, a wide range of APIs (Application Programming Interfaces) are available for all popular programming languages to facilitate creation of custom GUIs. The device is also compatible with legacy software via a Windows COM port for industry-standard applications such as LabView, MATLAB and Agilent VEE.
"This new Ethernet networking product is one of the most innovative products developed for many years for the DNC and machine data collection market and is an ideal fit for many different industrial and process control applications," said Eamonn Walsh, Managing Director of Brainboxes. "The Brainboxes ED-504 is a highly integrated and flexible device that can deliver significant improvements in efficiency in process environments, and because of its three-in-one integration it can also save cost and reduce production downtime."