USB-C to 1 Port RS232 Industrial USB to Serial Adaptor
US-735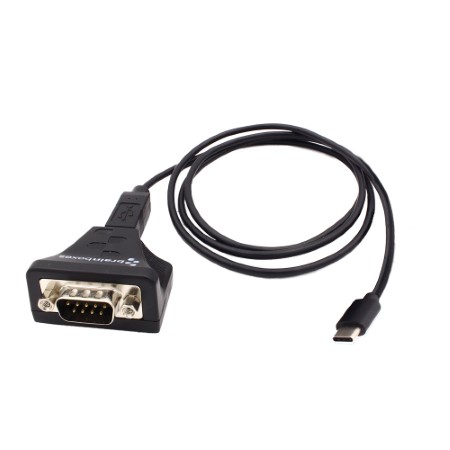 1 Port RS232 USB-C to Serial Adapter
High retention USB connector with 1m USB-B to USB-C cable
Our smallest form factor USB-C to serial adaptor
Works where many other USB to Serial devices do not
Industrial Specification -40 °C to +80 °C / -40 °F to +176 °F
Lifetime Warranty and Support
Description
Tough ultra small USB-C to serial adapter suitable for any environment. The closest you can get to an integrated RS232 serial COM port. High retention USB connector for an unbreakable connection, comes with 1m USB-B to USB-C cable .
Have confidence, this product will match whatever baud rate your equipment needs without data loss. Includes large 512 byte Tx and Rx and high data throughput. Works across the full spectrum of baud rates up to 921,600 including standard and arbitrary values.
We provide our own software drivers - eliminating many common problems with USB to Serial - giving you have a reliable, stable, native com port solution.
Drivers for Windows 32 bit and 64 bit Operating Systems including Windows 8, Windows 8.1, Windows 10, Windows Server 2016, Windows Server 2019
Tech Spec
Serial Port
Ports
1
Protocol
RS232
Connector
DB9 Connector - 9 Pin Male
Tx FIFO Size
512
Rx FIFO Size
512
Operating Distance
EIA - RS232 Standard
Cable
USB cable Type A to B (0.5 metre ~ 1.5ft)
Serial Port Settings
Max Baud Rate
921,600
Data Bits
7 or 8
Parity
Odd, Even, None, Mark or Space
Stop Bits
1 or 2
Tx/Rx Modes
Point to Point
General
PCB Layers
4
Operating Temperature Range
-40 °C to +80 °C / -40 °F to +176 °F
Industrial Standard
Yes
Power Consumption
50mA @ 5V
Product Weight
0.024 kg, 0.85 ounces
Product Dimensions
41x38x22 mm, 1.6x1.5x0.9 inches
Packaged Weight
0.156 kg, 5.50 ounces
Packaged Dimensions
160x135x49 mm, 6.3x5.3x1.9 inches
GTIN (barcode)
837324004601
Operating System Compatibility
Operating Systems

Microsoft Windows 10
Microsoft Windows 8 32 bit & 64 bit Editions
Raspberry Pi
Microsoft Windows 7 32 bit & 64 bit Editions
Windows Server 2008 32 bit & 64 bit Editions
Windows Vista 32 bit & 64 bit Editions
Mac OS X
Windows XP 32 bit & 64 bit Editions
Linux

Interface
USB 2.0
480 Mb/s USB 2.0 data rates.
Approvals
Microsoft Signed Drivers
---
Microsoft Hardware
---
Other
---
---
Modal header