Industrial Ethernet to Serial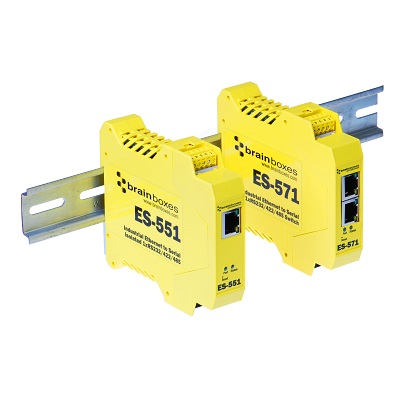 Ethernet to Serial device designed for the factory floor providing access to 1 or 2 RS232/422/485 serial ports. Software switchable RS232/422/485 options, will accept any Baud rate as standard between 110 and 1,000,000.
Slim DIN rail mountable design
-30°C to +80°C Operating Temperature (

-22°F to +185°F

)
Wide operating voltages +5V to +30VDC input
Software Selectable as RS232/422/485
Galvanic isolation and Switching options available
Number of Ports
RS-232 & RS-422/485
RS-232 & RS-422/485
Galvanic Isolation
RS-232 & RS-422/485
Galvanic Isolation
+ Switching
1 x
ES-511
ES-551
ES-571
2 x
ES-522
*

*
(*) Can't find what you're looking for? We can customise our product to suit your needs.
Features - Designed for the Factory Floor

Wide Range Input Power Supply
+5VDC to +30VDC accommodates variation in the +24VDC factory floor and allows alternative power sources.Can be powered from the 5 Volt of any computer USB port for easy preinstallation configuration.

Redundant Dual Power Input
A second power supply can be fitted as a back-up to prevent down time should one power source fail.

Extended Temperature Range
-30ºC to +80ºC (-22ºF to 176ºF) operating range means the device can cope with changing temperatures and harsh environments.

Integrated DIN Rail Mount
Din rail is integrated into the back of the case
Compact Size and Low Weight
Small foot print for when DIN rail space is a premium Only 22.5mm wide.
Features - Brainboxes' Easy Wire

Wiring Made Easy
Removable screw terminal blocks make installation easier and quicker

Easy Wire
Colour coded blocks and ports prevents incorrect connection

Wiring by Numbers
Individually numbered Pins simplifies wiring and removes confusion
Features - Reliable, Simple Software
Simplicity and ease of use of the software
Network your serial device in less than 5 seconds flat
Software switchable RS232/422/485 options
Will accept any Baud rate as standard between 110 and 1,000,000 Baud
Supports Legacy Software using COM port interfacing
Serial Tunnelling – Extend your Serial cable from 30ft to 30,000 miles
Microsoft WHQL Logo Approved
Other Features

Brainboxes Unrivalled Technical Support
Lifetime Support and Lifetime Warranty on all Brainboxes Industrial Ethernet to Serial Devices. You can contact us instantly by phone, by email or using the contact form at the bottom of the page.

Ethernet Switch Daisy Chaining
Daisy chain as many devices as you need from 1 ethernet cable using the ES-571's built in ethernet switch.

Low Power Consumption
Industry's lowest running costs, inherently environmentally friendly

Grounding
Correctly wired grounds help cut down on electromagnetic interference
5 pin terminals allow a ground on the 5th pin of each block
Functional Earth connection to the DIN rail

Smart Ethernet
Recognises and works with both straight and crossover Ethernet cables (Auto MDI/MDIX)
Mag Jacks provide 1500 Volts magnetic isolation offsetting any difference in grounds between Ethernet nodes
ES-511
ES-522
ES-551
ES-571
Industrial Ethernet to Serial 1xRS232/422/485
Industrial Ethernet to Serial 2xRS232/422/485
Isolated Industrial Ethernet to Serial 1xRS232/422/485
Isolated Industrial Ethernet to Serial 1xRS232/422/485 + Ethernet Switch

Protocol

Software Selectable as RS232, RS422/485 Full Duplex, or RS485 Half Duplex

Max Baud Rate

1,000,000 (1 MegaBaud)

Protocol

Software Selectable as RS232, RS422/485 Full Duplex, or RS485 Half Duplex

Max Baud Rate

1,000,000 (1 MegaBaud)

Protocol

Software Selectable as RS232, RS422/485 Full Duplex, or RS485 Half Duplex

Max Baud Rate

1,000,000 (1 MegaBaud)

Protocol

Software Selectable as RS232, RS422/485 Full Duplex, or RS485 Half Duplex

Max Baud Rate

1,000,000 (1 MegaBaud)

£ 235.00 (gbp)
£ 275.00 (gbp)
£ 275.00 (gbp)
£ 315.00 (gbp)
Details
Details
Details
Details