USB to Serial RS232 and RS422/485 converter adapter
Brainboxes USB to Serial converter adapters come in 1, 2, 4 and 8 ports as RS232 or RS422/485.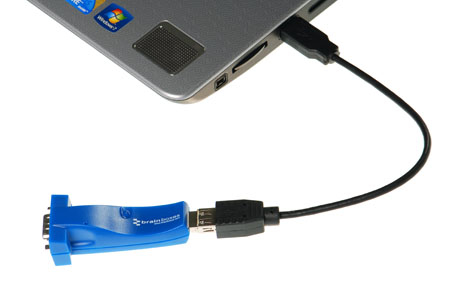 Baud rates from 110 to 921,600
Simple installation
Works where many USB to serial converters do not
Brainboxes proven software drivers, enable the serial port to behave just like a real COM port attached to the PC motherboard
Robust software for excellent application compatibility
Brainboxes Lifetime Warranty and Support
Products in Range
Protocol\Ports
1 Port
2 Ports
4 Ports
8 Ports

RS232

RS232

USB-C

RS422/485

RS422/485

USB-C
Testimonials
Just to add I have also had issues with USB to RS232 adapters in general. In the end I went with a Brainboxes UC-101 and have had no further problems.
Actually took quite a lot of searching to even find the Brainboxes card since I needed one that supported both Windows 7, and Windows 7 64.

tmodsoft
For some time I have been searching for a USB to Serial adaptor that works correctly with the Fanuc CNC controls fitted on the 600 UK products that I support.
I now use and recommend a USB to Serial adaptor supplied by Brainboxes Limited
They can look after all your RS232 hardware needs, be it getting your Netbook to talk to your CNC or your Desktop serving your CNC machines via RS232 multi port cards.
I find their products very reliable and their support team are very helpful.

Les Robbins
We have been massively impressed by the Brainboxes USB to RS232 converter. It is the best adapter we have found as it fully supports all 9 pins and has compatible drivers for windows 2000 through to Windows 7 64 bit meaning one solution can be used with all of our machines. We have been able to communicate with legacy PLCs such as the Honeywell IPC range through to modern PLCs such as the Allen Bradley Control Logix range. Unlike many other converters that can be hit-and-miss we are yet to find a device your converter will not work with. We have recommended your product to all of the automa

Coca Cola Enterprises
THANK YOU SO MUCH for your brilliant product (US-101)!! ...

We tried [many other brands] and a few other USB to serial adapters. None of them worked!.. I've been buying and returning like crazy. ...

I finally called IBM/Lenovo out of desperation and somewhere in their internal knowledgebase was a mention of your product working. So I bought one from Buy.com as a test.. it arrived today. IT WORKS! =)

You are likely the only manufacturer on the planet that makes a working serial to USB adapter for IBM/Lenovo. I would sugges

Creative NetVentures, Inc.
We use serial to usb converters at the moment, they are so good we have ordered some more!

Northumbrian Water
So far I've used the 8 port un-managed switch, RS-485 to Ethernet and now the US-235 without any issues. Great pricing through Newark, well designed and built products!!

Carolina CAT
Well I must admit to being sceptical, as we only ever found 1 [other] device that worked [reliably] and I had to leave that on a project and have never found another since. It appears on first testing that your US-101s work very well…………..

needless to say I am very pleased as it is so hard to source a laptop with on-board RS232 nowadays. Very pleased indeed! Thank you

Principle Communications
Have used a US-101 for many years and have been very happy with it.

Datel Advansys Ltd
I've previously used your 2-port PCMCIA serial adaptor and found it to be an excellent and importantly, reliable piece of kit. It was miles better than the cheap serial to USB adaptors than we sourced, which never seemed to work well.

AJ Consulting
After searching a lot on the internet for a good USB to Serial (RS232), I elected the Brainboxes US-101 for the following reasons:

it really seemed to be a very good device and completely suited for my needs (size, features, technical data) - very good ratings all over the internet
ready and tested for Windows 7 (64 bits)
developed and made in Europe from an european company!
lifetime guarantee
lifetime support
Brainboxes seems to be a company really [focused] on having good and reliable products and respect its customers

Luis Goncalves
I have been using the US-101 for over 7 years and have not had a problem with it yet. Other USB to serial converters used by other installers just seem to fail but not the US-101.

Kidde Australia
I am a big fan of Brainboxes. Tired of disconnects or dropping USB-to-Serial devices on other products with universal drivers!

The Light Source, Inc.
I would like to thank you for sending out the windows 7 RS232 USB driver.
I have had a lot of problems trying to get my EXFO fiber optic test equipment to communicate with my windows 7 laptop.
I loaded on your software for the driver and within 10 mins I could communicate with the EXFO.
Exfo's technical guys have struggled to find a soloution. Thanks to Brainbox the problem is solved
Many thanks

ABM Electrical Contracting Ltd
I've been using VX-001 on site (as a PLC / Servo Drive programming port) for years now, with much more success than USB adaptors - so I recommend it to all my clients (which is where this one will be going)!

Thanks Brainboxes!

Mark Guénault
I have used your pc card on my previous laptop and found it to be faultless, so your USB-232 converter was an obvious 1st choice!

MAN Engines & Components
We use Brainboxes devices to test a lot of our equipment here. The most common is the single USB Serial adapter. The feedback for this product is really good, not only from me but from everyone in the company that uses it.

Modular Mining Systems
I like the small form factor of the USB RS-485 products.

Cape Software, Inc.
I have tried many off the shelf USB to Serial adapters. Some break easily, others only work some of the time. Brainboxes US-101 installed in seconds and could communicate with anything I threw at it, I would recommend this device to anyone.

Colin Young, Nutek Europe
Only USB Serial device that I can get to work with the fire alarm systems.

BL Refrigeration & Air Conditioning Ltd
‹
›
Range Description
USB is a widely accepted PC user interface standard. This range has been designed to be stylish enough for desktop environments and rugged enough to withstand the industrial market environments. The proven, robust and reliable Boost software ensures these devices have the functionality and performance for even demanding applications.
Being hot plugable and plug & play devices makes USB a very attractive way to add serial connectivity to your platform.
USB is the worlds most popular interconnection standard with over 3Billion devices shipped last year. The plug & play USB experience is one of the reasons USB has stormed the world. In a laboratory or industrial setting many people want the USB connectivity convenience but also want high reliability devices and connections.
At Brainboxes we designed ranges of both mobile Laboratory devices and Industrial metal cased products to be extremely robust even in hard hat environments. Brainboxes Boost software provides an excellent User Interface with state of the art compatibility and data integrity.
Rugged Enclosures
IP-30 rated rugged, high strength, metal case protects the device in any environment from industrial to office based.
IP (International Protection Rating) Code specifies that objects greater than 2.5mm in diameter cannot penetrate the case, this means that the hardened metal case provides a safety barrier from objects (such as tools and wires) interfering with the internal circuitry.
DIN rail and Wall mountable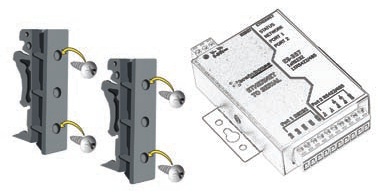 Optional DIN Rails
The DIN rails are an optional accessory. This allows the device to be mounted in a Server rack or any DIN rail fitted equipment rack. The DIN rails conform to IEC International Standard 60715 and European Standard EN 50022.
Integrated Wall Mount
All brainboxes serial to usb adapters have integrated wall mount points which are located on either side of the device (also known as Ears). Screws on nails can be used to attached the device through the wall point ears to a wall, table or any firm flat surface.
High Retention USB
Brainboxes USB to serial range includes high Retention USB socket (all industrial models) and screw fit power supply (only 8 port models and 4 port RS422/485 require power)
Download Range Summary Documents In Your Language