Power Over Ethernet to Serial
Simplify your installation with Power over Ethernet
Power over Ethernet (or PoE) means passing electrical power through an Ethernet cable alongside data. Devices which are PoE capable can be connected to both a power source and a network through a single Ethernet cable.
Some advantages of using PoE are:
Run one cable instead of two
Avoid cost of installing additional power sockets
Use your existing network cable
Quick, safe and simple to install
PoE can be particularly suitable for applications such as security cameras where it is difficult to run lots of wiring. View the PoE FAQ for more information
Brainboxes PoE Ethernet to Serial uses exactly the same software and drivers as our standard tried and tested Ethernet to Serial devices. You won't notice any difference in the operation or reliability of the device, the difference is purely in the convenience of the power options.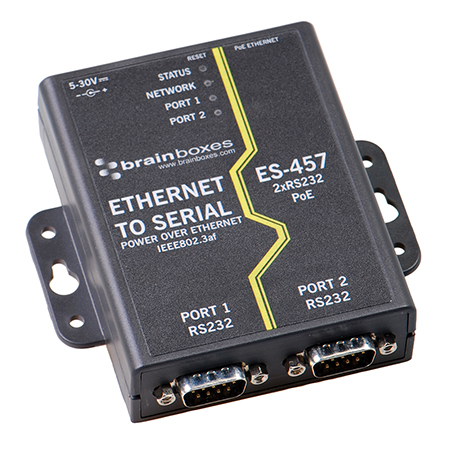 ES-446
ES-457
ES-420
ES-413
1 Port RS232 PoE Ethernet to Serial Adapter
2 Port RS232 PoE Ethernet to Serial Adapter
1 Port RS422/485 PoE Ethernet to Serial Adapter
2 Port RS422/485 PoE Ethernet to Serial Adapter

Max Baud Rate

1,000,000 (1 MegaBaud)

Max Baud Rate

1,000,000 (1 MegaBaud)

Max Baud Rate

1,000,000 (1 MegaBaud)

Max Baud Rate

1,000,000 (1 MegaBaud)

£ 115.00 (gbp)
£ 163.00 (gbp)
£ 124.00 (gbp)
£ 163.00 (gbp)
Details
Details
Details
Details