Powered Serial Cards
POS Overview
Point of Sale (POS) serial cards are used to connect point of sale hardware such as LCD displays, barcode scanners and printers to the main point of sale system. Brainboxes point of sale devices are used extensively throughout retail including major retail stores, DIY chains and supermarkets (see case studies)
Port Specification and Pin Out
Brainboxes POS serial products provide industry standard RS232 ports in a low profile or standard profile form factor.
Ports have the additional features of Megabaud communications (up to 921,600 baud)
Up to 1 Amp selectable power provided through pins 1 and 9 to attached peripherals.
Pinout matches most system manufacturers onboard powered serial ports.
The +5V and +12V POS voltages have self-resettable fuses and draw power from the internal power supply via a connector.
Power Supply
Standard Serial ports do not usually provide power to the peripherals.
In the Retail POS environment whilst there is no industry standard specification, it is a common requirement to provide Powered Serial ports.
Brainboxes PX-801 gives you the option to provide an additional 2 Powered Serial Ports with the PX-801 Card. The PX-801 allows RS232 peripherals such as barcode scanners or weighing scales, to draw the power they require from either Pin 1 or Pin 9 of the male RS232 connector.
The power for this needs to be taken directly from the PC's power supply unit, by means of a Serial ATA (SATA) power connector (shown below), or the older power connector used on Parallel ATA (PATA) connector.
It is vital to know the peripheral set to confirm that the total power requirement (current draw) serialdoes not exceed the limits of the power supply.
Selectable Power Settings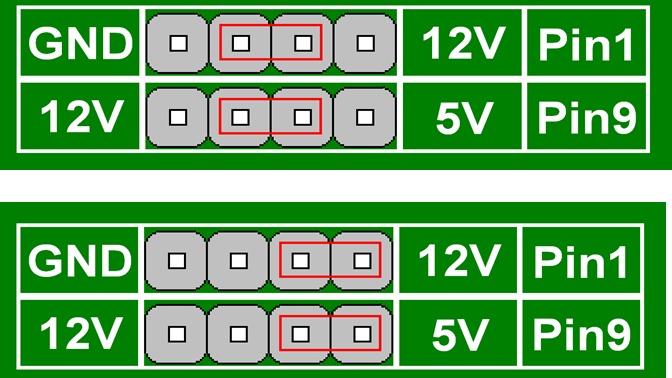 The Default Jumper Positions
Example, Pin 1 12V, Pin 9 5V; NB selection on Pins 1 and 9 are completely independent.
The power can be set on Brainboxes powered serial cards using jumpers.
The power options for Pins 1 and 9 are selected by jumpers on the board.
The boards are supplied with no power selected as the default setting.
When no power is selected serial ports behave as normal with Pins 1 and 9 able to receive the DCD and RI signals respectively.