Desktop & Server Serial Cards - PCI
Overview
PCI slots, introduced in the early 1990's, are now being replaced by the new PCI Express slots. Our PCI cards, being compatible with both 5V and 3.3V slots, are universal PCI cards: uPCI.
Brainboxes manufacture an extensive range of PCI cards with 1 to 8 ports, RS232 or RS422/485, low profile or standard height, and with or without cables.
PCI cards are plug & play, fit internally to the PC and give the most secure add on solution for permanent installations.
Download Multi-Language Range Summary Documents
Download Range Summary Documents In Your Language
PCI Spec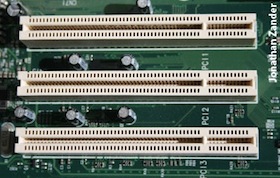 Conventional PCI (part of the PCI Local Bus standard and often shortened to PCI) is a computer bus for attaching hardware devices in a computer. These devices can take either the form of an integrated circuit fitted onto the motherboard itself, called a planar device in the PCI specification, or an expansion card that fits into a slot. The name PCI is an initialism formed from Peripheral Component Interconnect. The PCI Local Bus is common in modern PCs, where it has displaced ISA and VESA Local Bus as the standard expansion bus, and it also appears in many other computer types. Despite the availability of faster interfaces such as PCI-X and PCI Express, conventional PCI remains a very common interface.
PCI and PCI Express Comparison
PCI

Universal PCI

PCI Express

Brainboxes Range




CC
UC
PX
Slot Compatibility
Only 1 Key Way: Can only be inserted in 5V PCI slots
2 Key Ways: Can be inserted in either 3.3V or 5V PCI slots
Can be inserted into ANY PCIe slot (x1,x2,x4,x8,x16)
Height
PCI Express boards are the same height and length as PCI cards
Bracket
PCI Express uses the same card brackets as PCI boards, either standard or Low Profile
Low Profile and Standard Height
Both PCI and PCIe cards can come in different heights. The height effects which kind of computer the card can fit into. Low Profile (or half height or low height) fit into slim PC's and servers. A general rule of thumb is that if the height of your PC (including case) is less than 4 inches ( 100mm) then it requires a low profile card.