Desktop & Server Serial Cards - PCI Express
Overview
PCI Express (PCIe) slots are replacing PCI slots within desktop PCs and servers. PCIe cards have a similar form factor and user experience as the older PCI cards, however they are both faster and require less power and are becoming the card type of choice. Brainboxes PCI Express cards will fit in any PCI Express slot - x1, x4, x8 & x16.
Brainboxes manufacture an extensive range of PCI Express cards with 1 to 8 ports, RS232 or RS422/485, low profile or standard height, and with or without cables.
Download Multi-Language Range Summary Documents
Download Range Summary Documents In Your Language
PCIe Spec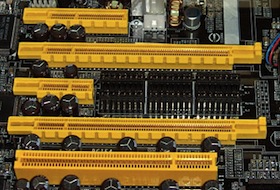 PCI Express (Peripheral Component Interconnect Express), officially abbreviated as PCIe (or PCI-E, as it is commonly called), is a computer expansion card standard designed to replace the older PCI, PCI-X, and AGP standards. PCIe 2.1 is the latest standard for expansion cards that is available on mainstream personal computers.

PCI Express is used in consumer, server, and industrial applications, as a motherboard-level interconnect (to link motherboard-mounted peripherals) and as an expansion card interface for add-in boards. A key difference between PCIe and earlier buses is a topology based on point-to-point serial links, rather than a shared parallel bus architecture.
PCI and PCI Express Comparison
PCI

Universal PCI

PCI Express

Brainboxes Range




CC
UC
PX
Slot Compatibility
Only 1 Key Way: Can only be inserted in 5V PCI slots
2 Key Ways: Can be inserted in either 3.3V or 5V PCI slots
Can be inserted into ANY PCIe slot (x1,x2,x4,x8,x16)
Height
PCI Express boards are the same height and length as PCI cards
Bracket
PCI Express uses the same card brackets as PCI boards, either standard or Low Profile
Low Profile and Standard Height
Both PCI and PCIe cards can come in different heights. The height effects which kind of computer the card can fit into. Low Profile (or half height or low height) fit into slim PC's and servers. A general rule of thumb is that if the height of your PC (including case) is less than 4 inches ( 100mm) then it requires a low profile card.