Laptop Serial Cards
Most laptops connect using the newer ExpressCard slot, some laptops come with the older PCMCIA slot. Both ExpressCard and PCMCIA ranges have either 1 or 2 ports in either RS232 or RS422/485.
Unsure what type of slot your laptop has? See more information in the tab below.
| | | | | |
| --- | --- | --- | --- | --- |
| VX-001 | US-101 | XC-235 | US-324 | VX-012 |
| | | | | |
| 1 Port RS232 ExpressCard Serial Adapter with integrated connector | 1 Port RS232 USB to Serial Adapter | 1 Port RS232 Native ExpressCard Serial Adapter, low latency, memory mapped | 1 Port RS422/485 USB to Serial Adapter | 2 Port RS232 ExpressCard Serial Adapter with detachable cable |
| | | | | |
| | | | | |
| £ 71.25 (gbp) | £ 39.00 (gbp) | £ 99.00 (gbp) | £ 49.00 (gbp) | £ 86.25 (gbp) |
| Details | Details | Details | Details | Details |
ExpressCard to PCMCIA Adapter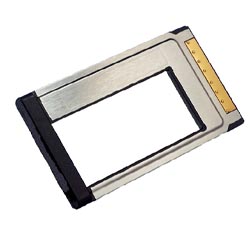 There are physical differences between PCMCIA and ExpressCard slots. PCMCIA cannot fit into an ExpressCard slot, and ExpressCards require an adaptor to fit into a PCMCIA slot - Brainboxes PM-200.
If you want a serial card which will fit into any type of ExpressCard slot and PCMCIA card slot we recommend a brainboxes ExpressCard plus a brainboxes PM-200
ExpressCard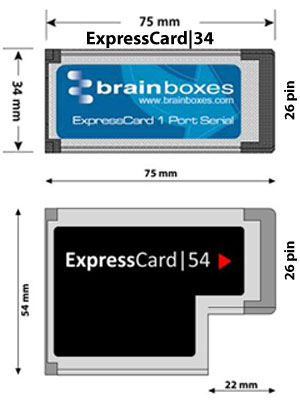 The ExpressCard standard define two form factors, the 34mmm wide ExpressCard/34 and the 54mm wide ExpressCard/54.
Whilst the 34mm slot accepts only 34mm cards the 54mm slot accepts both 34mm and 54mm cards. Brainboxes ExpressCard range being 34mm wide will fit into any ExpressCard slot on your laptop computer. For a more secure connection into a 54mm slot a Brainboxes VX-056 ExpressCard spacer can be purchased in conjunction with the card.
As well as being the de-facto expansion standard on the latest laptop ExpressCards slots have been fitted to some desktop PC such as the Lenovo
Brainboxes ExpressCard technology has several advantages over the older PCMCIA card technology, the four main ones being:
ExpressCards that are about half the size & weight
ExpressCards give longer battery life by using a lower supply voltage and having improved power management
ExpressCards offer a better user experience being based upon USB's leading edge plug and play mechanism.
ExpressCards are lower cost due to their smaller size and higher integration parts.
PC Card - PCMCIA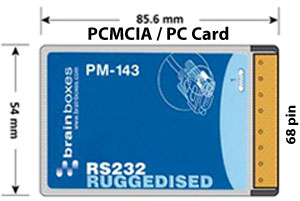 PCMCIA stands for Personal Computer Memory Card International Association, the group of companies that defined and developed the standard. While this acronym did clearly describe the original intentions of the organization's standard, it was difficult to say and remember, and was sometimes jokingly referred to as "People Can't Memorize Computer Industry Acronyms". Later PCMCIA was rebranded to simply PC-Card. PC-Cards were superseded by ExpressCards in 2003, laptops manufactured after this time are more likely to have ExpressCards.